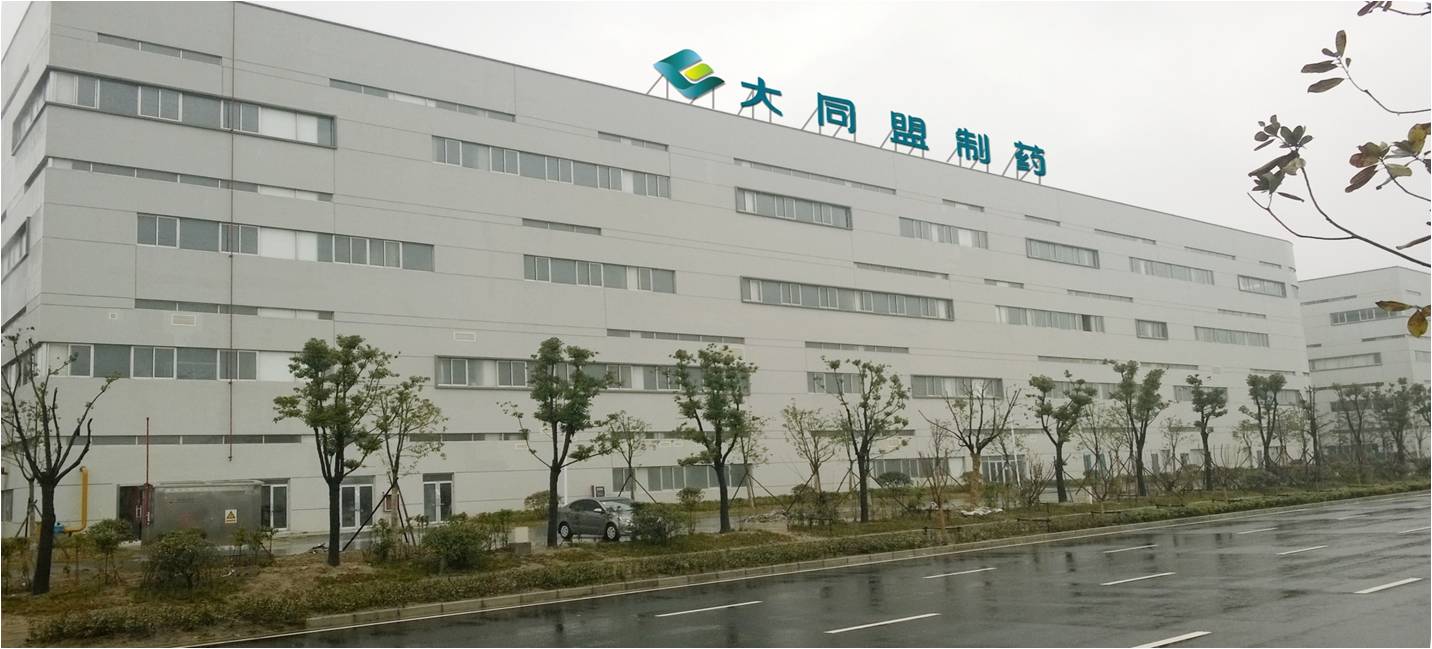 China Pharmaceutical city is located in the Yangtze River Delta, with an overall planning area of 30 square kilometers. It is composed of scientific research and Development Zone, production and manufacturing area, exhibition and trading area, health care area, education and teaching area, comprehensive supporting area and other functional areas Plant phase IV.
Jiangsu Da Lian Pharmaceutical Co., Ltd. was registered and established in China Pharmaceutical City, Taizhou, Jiangsu Province in 2013, with a registered capital of 33 million yuan, a construction area of more than 15000 square meters, and a total investment of 300 million yuan. It is mainly engaged in the R & D, production and sales of freeze-dried powder injection and small volume injection (non final sterilization).
The company started purification construction in early 2013, completed the construction of three production lines, quality inspection, storage and public supporting facilities in 2014, and obtained the drug production license. At the beginning of 2016, it obtained the production approval number of three varieties and five specifications. In the same year, through the GMP on-site inspection of Jiangsu Provincial Drug Administration, the GMP certificates of three production lines were obtained, and large-scale production was started.
The company has a sound organization and quality management system. Equipped with management and technical personnel suitable for production, established training system and control standards suitable for quality management, and carried out production management activities in strict accordance with GMP management standards. There are 151 employees, including 30 professional and technical personnel.
At present, the company has 7-10ml freeze-dried powder injection preparation workshop, 2-5ml freeze-dried powder injection preparation workshop, 1-20ml small volume injection workshop and supporting quality inspection, storage, power and other auxiliary departments. The specific production equipment and capacity are as follows:
① 7-10ml vials freeze-dried powder needle production line, production capacity of 180000 pieces / shift / day. It is equipped with automatic liquid dispensing system, a 500 bottle / min filling linkage line and 4 sets of 40m2 freeze-drying machines.
② The production line of 2-5ml vials lyophilized powder injection has a production capacity of 140000 pieces / shift / day. It is equipped with automatic liquid dispensing system, one 400 bottle / min filling linkage line and two 17m2 freeze-drying machines.
③ 1-20ml ampoule small volume injection production line, with a capacity of 150000 pieces / shift / day. It is equipped with automatic liquid dispensing system and a 500 bottle / sub filling and sealing contact line.
The above production lines are fully automated in terms of facilities and equipment configuration. Environmental dust particles, temperature, humidity on-line monitoring; liquid preparation system online measurement, online cleaning and sterilization. Among them, the small volume injection linkage line is L-shaped, and the filling inspection port is located in the d-level area, which avoids the maintenance operation in the B-level area and reduces the environmental pollution; the full-automatic lamp inspection and leakage detection machine of Brevetti company in Italy completes the screening and online detection of the loading capacity of the products after the pouring, and takes 30 pictures per second, effectively eliminating the products with excessive foreign matters, unqualified loading capacity and cracks, Ensure product quality and safety. The rubber plug of freeze-drying powder injection production line is cleaned, sterilized, transported to the hopper, sealed butt and filled with automatic control; after half filling, the product enters the freeze-drying box, and then goes out of the box after the freeze-drying and pressing plug is automatically transported by AGV car. All the transfer processes in grade B area are completed by PLC system under the A-level laminar flow protection of Rabs, so as to completely avoid human interference and reduce the product impact Causing pollution. By improving the degree of production automation, the labor intensity is reduced, the production cost is saved and the product quality is improved.
The company's main products are low molecular weight heparin calcium injection, which is mainly used in the treatment of thromboembolic diseases, prevention of blood clot formation during hemodialysis, and prevention of deep venous thrombosis. At the same time, it has also carried out commissioned production business, cooperated with a number of drug research and development institutions, production enterprises and drug marketing license holders. At present, 6 authorized production approval documents have been obtained and normal production has been carried out; 1 product has been commissioned, and the process verification and stability test before declaration have been completed; 2 MAH cooperative products (3 specifications in total) have been completed For the production of samples, the client shall apply for production registration according to the requirements of MAH.
The company's quality inspection center covers an area of more than 800 square meters, equipped with corresponding animal laboratory, product sample room, gas chromatograph, high performance liquid chromatograph, infrared spectrometer, three-way ultraviolet analyzer, DHP-1 high-pressure separator, intelligent insoluble particle analyzer, digital Abbe refractometer, Automatic Kjeldahl nitrogen analyzer and other research and development testing equipment, facilities and professionals Equipped, fully meet the quality control activities of raw materials, intermediate products, finished products, and long-term stability inspection.
The company has cooperated with many universities and R & D institutions to develop new varieties. So far, it has carried out more than ten cooperative projects and obtained 19 patents.
In 2016, the company was rated as "top 10" high growth small and medium-sized enterprises and contract and trustworthy enterprises; in 2017, it was awarded the title of Jiangsu private science and technology enterprise, and the company's low molecular weight heparin calcium injection was recognized as a high-tech product; in 2018, it was identified as a high-tech enterprise, Taizhou enterprise technology center, and the company's product trademark "unishu" was rated as a well-known business in Taizhou Standard, the company's low molecular weight heparin calcium injection products were identified as Taizhou special special new products. In 2019, the company was identified as the Municipal Engineering Technology Research Center, the Municipal Science and technology giant enterprise, and the city's top 10 enterprises of specialty and specialty; the low molecular weight heparin calcium injection product was identified as the provincial specialty and special new product.
Jiangsu Grand Alliance Pharmaceutical Co., Ltd. relies on scientific and advanced hardware facilities configuration, first-class talent management team, scientific quality control system construction and efficient and stable production capacity